Hi5 Campervan – Campervan Hire
Toyota Hiace Campervan 2-5 berth (2018 - 2020 Fit-Out)
Quick Facts
Adults
2-5
Microwave
Fridge
Gas Cooker
Sink
Usb
Solar Panel
Travellers Autobarn is launching our custom-built Hi5 Campervans in New Zealand! The Hi5 Camper is our biggest camper yet, seating and sleeping up to 5 people. It is ideal for families with young kids or groups of friends who would like to travel around New Zealand. Spacious enough to stand up and move around inside, the Hi5 Campervan is the perfect home-on-wheels for your New Zealand adventure.
The Hi5 Camper can accommodate the following groups:
4 adults; or
2 adults & 3 kids
Our Hi5 campervan has an upgraded new look from our regular campervans, as well as a new interior layout. Featuring three seats in the front cabin and two directly behind, the kitchen at the back of the vehicle, and a spacious living area. They even have a rooftop solar panel fitted, so you can spend less time and money in powered campsites and more time freedom camping! Best of all, we have custom-built the interior so everything inside is brand NEW from 2018-2020.
BOOK NOW – PAY LATER
Travellers Autobarn recognises that booking a holiday these days can be difficult. Due to many uncertainties we are offering flexibility around payments, cancellation and changing bookings! More info here…
Key Features
Ideal For Families / Groups
2018-20 Fit-out
2 Meter Internal Height
Kitchenette with large fridge, sink, gas cooker & microwave
Automatic Transmission
Our Benefits
Rentals from the age of 18 - no extra charge
10% discount to premium caravan parks
Bonds are only frozen
Portable Toilet/Self-contained Option
FREE Heater/Hot Water Bottle/Extra Sleeping Bags during winter
Extras
Unlimited Kilometers
Toll Free Service Number
24/7 Roadside Assistance
Free road Atlas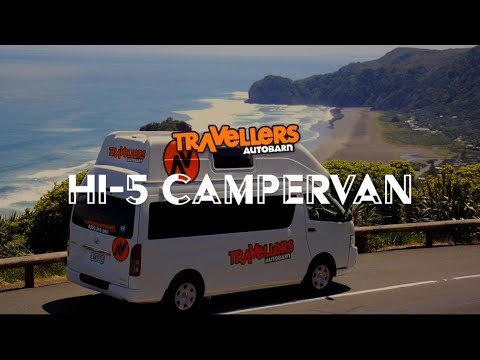 Specification Sheet
Vehicle age: 2009 - 2014
Interior fit-out age: 2018 - 2020
Engine: 2.7 litre, 4 cylinder
Fuel: Unleaded
Fuel consumption: 14 - 15 litres/100 km
Powered Steering: Yes
Dual battery: Yes
Power supply: 2 × 240 V to charge electrical appliances
Seating: 5
Sleeps: 4-5 (2 × large double beds)
Air Conditioning Front Cabin
Gas stove
Microwave
Fridge
Sink
Fresh water tank
Grey water tank
Rooftop solar panel
Cigarette lighter / Charger
Radio & CD player
Fire extinguisher
USB outlets to charge devices
12V Plug-in
Optional - Porta Potti hire ($50/hire)
Baby seat (6 months -3 years): Available
Booster seat (4-7 years): Available
Our aim is to make your campervan holiday with your Hi5 camper a very affordable, enjoyable and memorable experience. Therefore, our luxury campervan hire is the best budget rental deal that could get. Also, consider this, when you buy bus tickets and accommodation per person, and throw in the extra transport you may need when the bus only drops you in the centre of town, it may actually be cheaper to rent a luxury campervan. ATTENTION: Please be aware if you are four/five people with lots of luggage in the Hi 5 camper, we do not recommend you to rent this vehicle – luggage space is limited. If you are travelling with kids who require a baby or booster seat we ask you kindly to read through our Terms & Conditions or contact us directly so that you are aware of your responsibilities.
---
You may also be interested in: